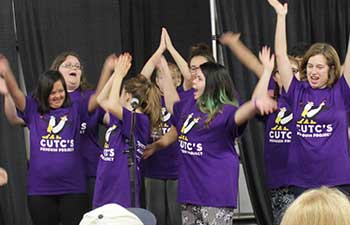 EXPO DATE: October 28, 2023
The DISABILITY Resource Expo relies on support from business and community sponsors to lead the way in creating the most recognized resource expo in East Central Illinois. Through your support:
The Expo will offer Champaign County and East Central Illinois residents the opportunity to learn more about available resources in our area.
The Expo will link individuals with disabilities and their families to the community resources that will enable them to live more independently.
The Expo will help educate all citizens about disabilities and how, together, we can make a difference!
The Expo will offer materials available in alternative formats, such as large print, disk, braille, etc.
The Expo has become recognized as a critical area resource event.
Six sponsorship levels are offered and can be monetary or in-kind support. To discuss the possibility of becoming a sponsor, please contact event coordinators Allison Boot ([email protected]) or Dylan Boot ([email protected]). Supporters must pledge their sponsorship by the annually posted due dates to receive full acknowledgement.
Premium Platinum Level ($1000+)
All benefits of Gold Level (see below), plus
Logo on back cover of Expo Resource Book and on the website
Logo recognition on Premium Platinum sponsorship signs at central location at Expo
Full page ad (premium placement) in the Expo Resource Book
Company/organization name mentioned in publicity and promotion whenever possible
Platinum Level ($500-$999)
All Gold benefits (see below), plus
Your logo placed on main acknowledgement sign at central location at the Expo
Full page ad (upgraded from ½ page as in Gold Level) in the Resource Book
Gold Level ($300-$499)
Listed as a sponsor on main acknowledgement sign at central location at the Expo
A ½ page advertisement in the Expo Resource Book
One commercial booth space if desired. Retail sales are permitted. ($300 sponsorship includes one 10ft by 6ft booth space - adjoining (double) space is an additional $200. Booth availability is limited to disability-related service and resource provider organizations.)
Silver Plus Level ($150-$299)
A ¼ page advertisement in the Expo Resource Book
Silver Level ($100-$149)
A Business Card size advertisement in the Expo Resource Book
Friends Reaching Out for Answers (Under $100)

DIAMOND SPONSORS
Carle
Champaign County Developmental Disabilities Board
Champaign County Mental Health Board
City of Champaign Equity and Engagement
Martin One Source
Mass Transit District of Champaign-Urbana
National Seating and Mobility
Quality Med Transport
Smile Politely
Stevie Jay Broadcasting
Thrivent Financial
PLATINUM LEVEL SPONSORS
Adams Outdoor Advertising
Blue Tower Solutions, Inc.
Champaign County Down Syndrome Network
Champaign-Urbana Special Recreation
Developmental Services Center
Eden Supportive Living
Elliott Counseling Group
Greater Champaign County AMBUCS
MedServ Equipment Corp.
The News-Gazette
GOLD LEVEL SPONSORS
Ascend Consultation In Health Care
Amazing Sensory Designs
City of Urbana - Office of Human Rights & Equity
Excel Prep
First Federal Savings Bank of Champaign-Urbana
PonyCycle
The Pavilion Hospital
The Place for Children with Autism
WEFT Community Radio
SILVER LEVEL SPONSORS
Andrew White Dentistry
Champaign Urbana Speech Therapy
The Arc of Illinois
Thrivent Community Action Team
University of Illinois - School of Social Work - Community Learning Lab
Visit Champaign County
Oberweis
Workability
BRONZE LEVEL SPONSORS
Community Plus First Federal Credit Union
Cunningham Children's Home
Phoenix Theatres - Savoy 16
STAR NET Regions I & III
Steve Tarrant Insurance Agency, Inc.
Young Chiropractic & Acupuncture
FRIENDS LEVEL SPONSORS
Biaggi's
Family Service of Champaign County
Jarlings
Longhorn Steakhouse
MinuteMan Press
Orange Theory
Outback Steakhouse
Perkins
Project Te
Red Robin
Slim Chickens
Sweet Basil Cafe
The Urbana Free Library
Urbana Garden Family Restaurant